Leadership in Energy and Environmental Design
What is LEED®?
The Leadership in Energy and Environmental Design (LEED) Green Building Rating System is the nationally accepted benchmark for the design, construction, and operation of high performance green buildings. LEED gives building owners and operators the tools they need to have an immediate and measurable impact on their buildings performance. LEED promotes a whole-building approach to sustainability by recognizing performance in five key areas of human and environmental health: sustainable site development, water savings, energy efficiency, materials selection, and indoor environmental quality. LEED provides a roadmap for measuring and documenting success for every building type and phase of a building lifecycle.
How is LEED Developed?
The LEED Rating System was created to transform the built environment to sustainability by providing the building industry with consistent, credible standards for what constitutes a green building. The rating system is developed and continuously refined via an open, consensus-based process that has made LEED the green building standard of choice for Federal agencies and state and local governments nationwide.
What is the certification process?
The first step to LEED certification is to register your project. A project is a viable candidate for LEED certification if it can meet all prerequisites and achieve the minimum number of points to earn the Certified level of LEED project certification. To earn certification, a building project must meet certain prerequisites and performance benchmarks ("credits") within each category. Projects are awarded Certified, Silver, Gold, or Platinum certification depending on the number of credits they achieve. This comprehensive approach is the reason LEED-certified buildings have reduced operating costs, healthier and more productive occupants, and conserve our natural resources.
Paragon Engineering is proud to have 4 LEED Accredited Professionals on staff.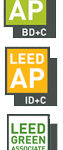 David P. Bobiak, PE, LEED AP, BD+C, ID+C
Behnam Majidi, PE, LEED AP, BD+C, ID+C
J. Brian Goudy, LEED AP.